Trustees
---
Our Trustees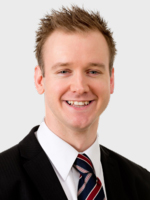 Andrew Bent
Chair of Trustees
Andrew was appointed Chair of Trustees for Omega Multi-Academy Trust in 2018, following his tenure as Chair of Governors at Great Sankey High School, where he had been part of the Governing Body since 2008. Andrew is a founding member of Omega Multi-Academy Trust. He is a member of the Finance, Audit and Risk Committee and the Safeguarding and Standards Committee.
Andrew was appointed as a National Leader of Governance (NLG) in February 2016, and has supported both primary and secondary schools, along with conducting formal external reviews of governance. He was previously the Vice-Chair of Governors for the Local Governing Body of Great Sankey Primary School in Warrington, having been on the board for 14 years. Andrew is currently a member of Chatsworth Multi-Academy Trust Board.
Working for United Utilities as an Asset Manager, he has responsibilities for the long-term asset planning for the water network in the North-West of England. His role requires extensive risk management and project sponsorship, to ensure the most important risks are assessed within the right projects. Previous to his current role, Andrew worked in the Finance Department as a management and financial accountant.
Andrew brings an extensive knowledge of education governance to his role of Chair.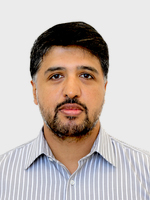 Naheem Shafiq
Vice-chair of Trustees
Naheem joined the Omega Multi-Academy Trust Board in 2019 following his tenure as a Governor at Chapelford Village Primary School, a role he held for many years. Naheem was appointed Vice-Chair of Trustees in 2019 and is the Chair of the Finance, Audit and Risk Committee.
Naheem is currently an Associate Governor at Carmel College, St Helens.
Working as a Finance Manager for Halton Borough Council Naheem brings a wealth of experience to his role at Omega Multi-Academy Trust.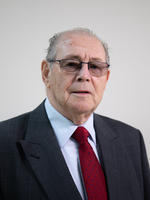 John Joyce
Trustee
John joined the Omega Multi-Academy Trust Board in 2018, upon formation of the trust. John was formally the Chair of Governors at Burtonwood Community Primary School where he had been on the Local Governing Body for 17 years and is currently a member of the Finance, Audit and Risk Committee.
John is now retired, but previous roles included a Local Councillor, Trade Union Official and senior manager at a Fire Service. He offers the trust a wealth of understanding about the local communities and experience within governance.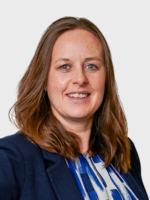 Lisa Jordan
Trustee
Lisa joined the Omega Multi-Academy Trust Board in 2020 and is a member of the Standards and Safeguarding Committee. She is an experienced commercial lawyer with significant in-house legal experience across the Water, Payments & Billing and Global Professional Services sectors. Lisa demonstrates the ability to find sound commercial solutions to complex legal challenges and she recognises the benefit a legal business partner can bring to a company through a culture of strong collaboration and effective communication.
Lisa has over 20 years legal experience and has worked at Yorkshire Water, United Utilities, MPP Global, GHD and Steer. Such roles have provided broad experience of transformation and project management, business planning, health & safety, risk management, governance, and internal and external audit. Lisa has worked closely with Engineering, Energy, Construction, and Capital Projects teams along with Facilities, HR, Marketing, IT and Procurement teams helping to standardise and streamline contracts where possible, always adding value to mitigate and manage the businesses legal and commercial risks.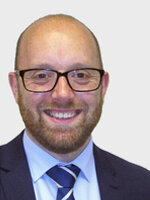 Don Jones
Trustee
Don joined the Omega Multi-Academy Trust Board in 2020 after moving to the Great Sankey area and sought to establish long-term roots in the communities that the trust serves. He was appointed the Chair of the Standards and Safeguarding Committee in 2022.
Don is currently a Chair of Governors at a large secondary school, within a Multi-Academy Trust, in Cheshire.
Currently working in the education leadership team as Head of Data and Analysis at a large national multi-academy trust of 40+ academies, Don has previously worked for the government as an IT professional before moving into education to help shape the IT profession to better meet the needs of the wider economy. As a qualified secondary school teacher with extensive middle and school senior leadership team experience, latterly as a director of achievement and data, Don brings a wide range of knowledge to his role within the Trust Board.
Don provides valuable experience in data management and standards to the trust.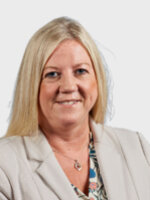 Tracey Greenough
Trustee
Tracey joined the Omega Multi-Academy Trust Board in 2022 and is a member of the Standards and Safeguarding Committee. Tracey is currently employed as the Deputy Chief Executive for another multi-academy trust, a position she has held since 2020 following her previous role as Director of Education.
She has spent twenty-six years working in education, starting her career as a science teacher. Since then, she has been employed in a plethora of roles, from Advanced Skills Teacher and Head of Year, to Assistant Headteacher, Vice Principal and Headteacher. She is also a qualified Ofsted inspector and a Local Leader of Education (LLE). Tracey's vast experience in the education sector means that she is driven to serve the communities of Omega MAT with determination, integrity and empathy.
Tracey provides the Trust with extensive knowledge in school improvement, planning and implementing school improvement strategies.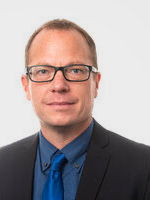 Gavin Brown
Trustee
Gavin joined the Omega Multi-Academy Trust Board in 2022, having been a founding member of the trust. Gavin was a Governor at Westbrook Old Hall Primary School for 12 years and held the position of Chair of Governors for 10 years and is a member of the Finance, Audit and Risk Committee .
He works at the General Medical Council where he is the Executive Manager of the Medical Practitioners Tribunal Service (MPTS). The MPTS run hearings, which make independent decisions about whether doctors are fit to practise medicine in the UK. Prior to this he worked at the Ministry of Justice and Defence.
Gavin provides valuable experience in communications and risk management to the trust.