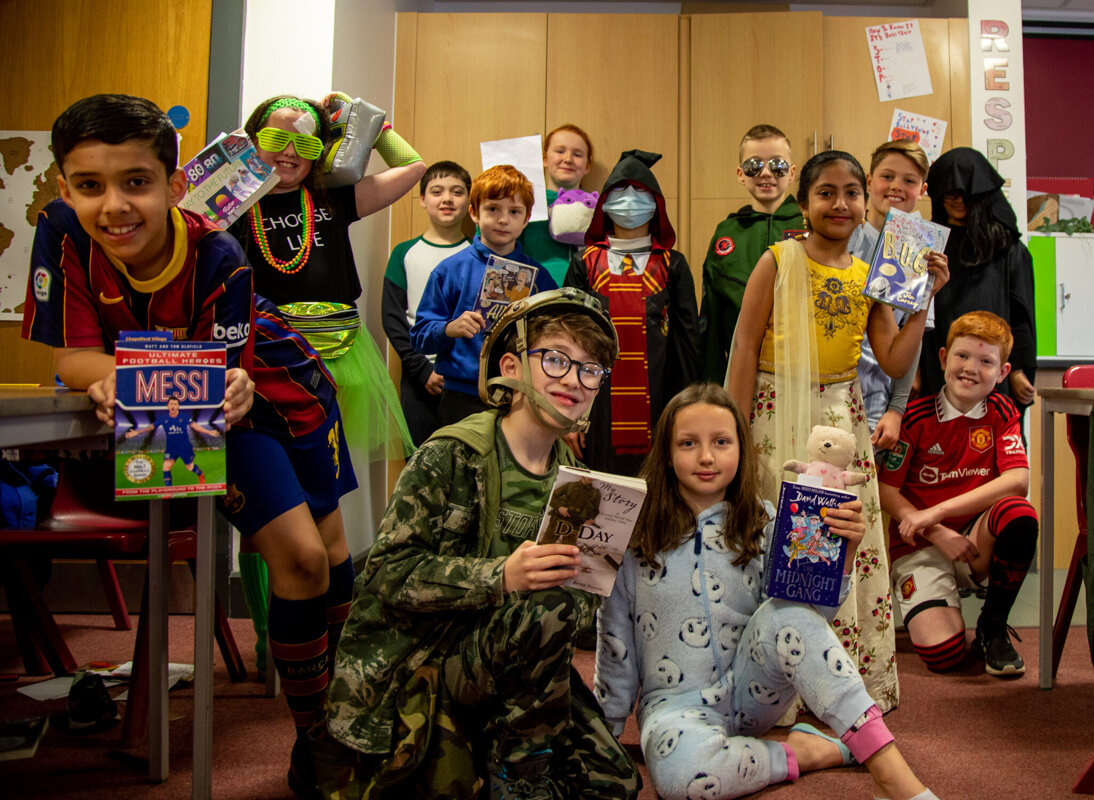 On Thursday 2nd March all our schools celebrated the day with great success. A variety of activities took place, encouraging creativity, imagination and fun! Excitement was in abundance with children dressing up as characters from their favourite books.
Burtonwood Community Primary School saw children dressed as well-known classics such as Peter Rabbit as well as some newer favourites including Gangster Granny. Pupils visited the local library for a book reading as well as a chance to find out more about the service and borrow some books. Headteacher, Heather Muttock said: "It was fantastic to see all the children dressed as their favourite book characters. World Book Day is always great fun and a perfect opportunity to celebrate reading."
Chapelford Village Primary School invited children to dress up as their own character that they had created. Giving children the chance to use their imagination and combine all their favourite books and character traits! All classes participated in 'Drop and Read' sessions throughout the day allowing children to share their love of reading with their friends and teachers. They also ran a 'Story Spoon' competition where students decorated a wooden spoon with images or words that represent a story, book or character.
Westbrook Old Hall School had a 'bedtime stories and a relaxed reading' theme, with children wearing their comfiest pyjamas to school and bringing in their favourite book to share.
Great Sankey High School were visited by Frank Cottrell-Boyce, award -winning screenwriter and author who spoke about his childhood, achievements, his career, his passion for reading and his role as children's author. He spoke about why reading for pleasure is so important and, what inspired him to write. The talk was followed by two creative writing workshops, in which students were involved in creating short stories from the opening line "wouldn't it be great if . . ."
Frank who is the Patron of Reading at Alsop High School sent a message "Hello Alsop, my favourite school in the whole wide world! Today I wish you a very, very Happy World Book Day! I hope todays' school events, in the Library especially, will inspire you to read something that will change your life, or make you laugh, or become a treasured memory, or any of those amazing things that a book can be!" Students were invited to bring in any books they wished to swap with other students, or choose books from the Library trolley. The school also launched their annual Let's Celebrate 500 Word Writing Competition. Students, staff and parents are encouraged to write 500 words or less.
World Book Day was created by UNESCO in 1995 as a worldwide celebration of books and reading, we hope all of our children are inspired by days like today to develop a lifelong love of reading.